With more than 16 years of accumulated knowledge and experience of working with institutionalised, as well as with street children and youth, GENESIS is committed to support the after-care adolescents and youth in their struggle for survival. We believe that with efficient and structured guidance and support in collaboration and through networking with other governmental and non-governmental organisations, they can not only improve their chances of basic survival and avoid criminalisation or beggary, but can also become self-reliant members of mainstream society.
Adolescents and Youth in Georgia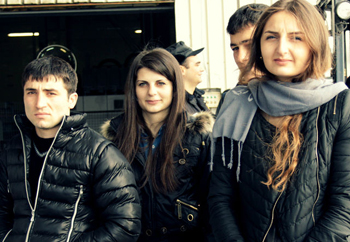 Thousands of vulnerable adolescents and youth in Georgia are at significantly increased risk of permanent unemployment, poverty and social exclusion after being removed from child-care providing institutions due to the accelerated de-institutionalisation process, or because of their having reached/passed the graduation age-limit. Without resources, skills or adequate social support structures, they are returned (reintegrated) to families which had been extremely vulnerable to begin with. Those youth who had already passed the age-limit were provided with no social or economic support and, in most cases, were left out to live and work in the streets. The number of children and youth who were registered residents of childcare institutions before the deinstitutionalisation process accelerated in 2005-2006 was about 6,000 (according to EU Food Aid Programme data). Currently, only 12-15% of these children and youth remain within different, mostly family-type institutions across Georgia. The rest, not less than 85%, children and youth have been deinstitutionalised.
Problem
Education Challengers


There are no systematic after school/after-care educational support schemes (formal or informal), social inclusion or alternative social benefit programmes available for the youth graduating any type of the child-care providing institutions operating in Georgia. The education and skills obtained by the targeted youth in the child-care providing institutions and/or nearby public schools leave them uncompetitive for finding jobs. In addition to their lack of work and social skills, one of the biggest obstacles for establishing independent post-institutional social life are high levels of social stigma, absence of social connections, unawareness of job information and unavailability of any economic support system or legal incentives.



Target groups


The project will provide direct support to 30 post-institutionalised youth and adolescents (age 16-23) from Tbilisi and the surrounding towns annually through a structured comprehensive interventions aiming at their improved employability. It is also planned to include in the programme at least 20 adolescent residents of various "family-type homes" located in East Georgia.
Objective and Main Goals
The objective


The ultimate objective of the project is to make this very vulnerable youth more economically independent and socially better included.



The main goals


The project will support the vulnerable adolescents and youth (aged 16-23) in their struggle for survival and self-reliance. It will seek to help formerly institutionalised adolescents and youth left without any follow-up support to avoid beggary, imprisonment and destitution by helping them to acquire basic workplace and better social skills, meet current entry level labour market demands, to become more confident and less self-stigmatising, aware of their rights, employable and economically and socially better included. The project team will actively liaise with potential employers and employers' networks, with NGOs and all relevant governmental bodies in Georgia to motivate them to provide jobs and to establish better social rights for the targeted youth. The project will also prepare and motivate most active formerly institutionalised youth to advocate on behalf of their peers. In the longer term, self-employment support will be tested as one of the pathways for their economic inclusion.